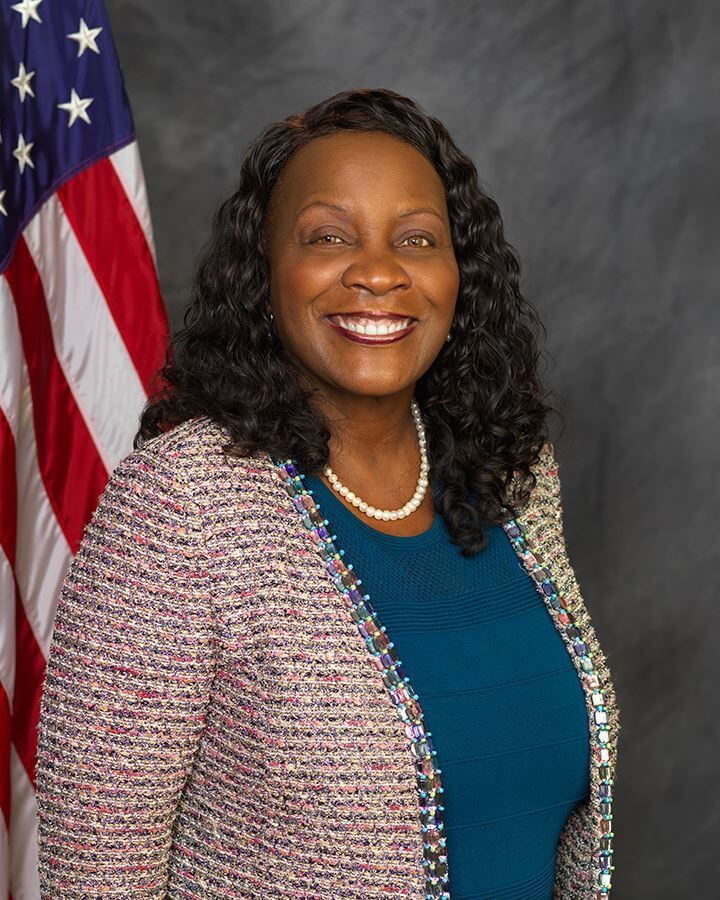 Statement from the Mayor Aquanetta Warren
Dear City of Fontana,
I would like to take a moment to address comments made by the public during our recent Council meeting. I want to assure everyone that this Council takes all comments seriously and that we have listened carefully to many different perspectives. It is of utmost importance to us that our community understands the commitment we have to serving its residents and businesses.
In light of the feedback received, I believe it is essential to provide some context to the situation. In 2018, the California Legislature passed SB 946, a law limiting cities from regulating sidewalk vendors. However, it's crucial to note that this legislation did not lift the food handling requirements related to public health and safety and welfare imposed on businesses. Every business, irrespective of its size or type, is still obligated to adhere to food handling standards.
Nearly two years ago, on January 25, 2022, the Fontana City Council enacted an ordinance with the primary goal of safeguarding public health, safety, and welfare. This response was driven by the specific risks associated with unlicensed sidewalk vending, including concerns related to public health, traffic, pedestrian safety, mobility, and possible unsanitary food preparation conditions.
Our Code Compliance department has been diligently working to inform and educate unlicensed food vendors about the permitting process in both English and Spanish. Unfortunately, our education efforts did not result in widespread compliance, leading us to take further action to uphold public health laws. On May 30, 2023, the City Council implemented a sidewalk vendor reimbursement program, allowing applicants to be reimbursed for costs associated with permitting. I am sad to say that not one person applied for the reimbursement program to obtain a permit.
Regrettably, it came to our attention that unlicensed sidewalk vendors were increasingly setting up shop in the parking lots of small restaurants and predominantly hurting latino small businesses that operate lawfully in our city . To address unfair and unlawful business practices in response to our unsuccessful efforts to educate and to provide funding to street vendors, on October 24, 2023, the Council voted to enhance enforcement efforts by contracting with an external company. After the meeting, several of Fontana's Latino owned businesses were faced with death threats and violence. This is completely unacceptable.
I also want to address a concern that has been raised – some may feel that we are unfairly targeting our Latino community. This could not be further from the truth. I want to be clear: Our goal includes protecting our Latino small businesses so they can prosper in our community. I believe in the protection of all small businesses, including Latino-owned establishments. However, we cannot selectively enforce regulations. Regulations must be uniformly applied to ensure the safety and well-being of our community. As a City, we need to exercise equitable enforcement of our local, State and federal laws.  Commerce is undeniably vital for our city, but it must operate within established regulations.
Our primary responsibility is to ensure the health, safety and well-being of our community, a commitment that this Council upholds unwaveringly. It is important to understand that our actions are not meant to discriminate but to uphold health and safety standards that apply to all.
For those present in person, you may have noticed the additional safety measures we have implemented. These measures are in place to ensure that all members of the community feel safe expressing their opinions without fear of intimidation and ridicule. Fontana is committed to protecting our first amendment rights for everyone in our community.
Rest assured, we are dedicated to upholding the safety and well-being of every member of our community, and we remain open to dialogue as we work together for the betterment of Fontana.
Sincerely,
Mayor Acquanetta Warren
Thank you for attending the Board of Directors Installation Gala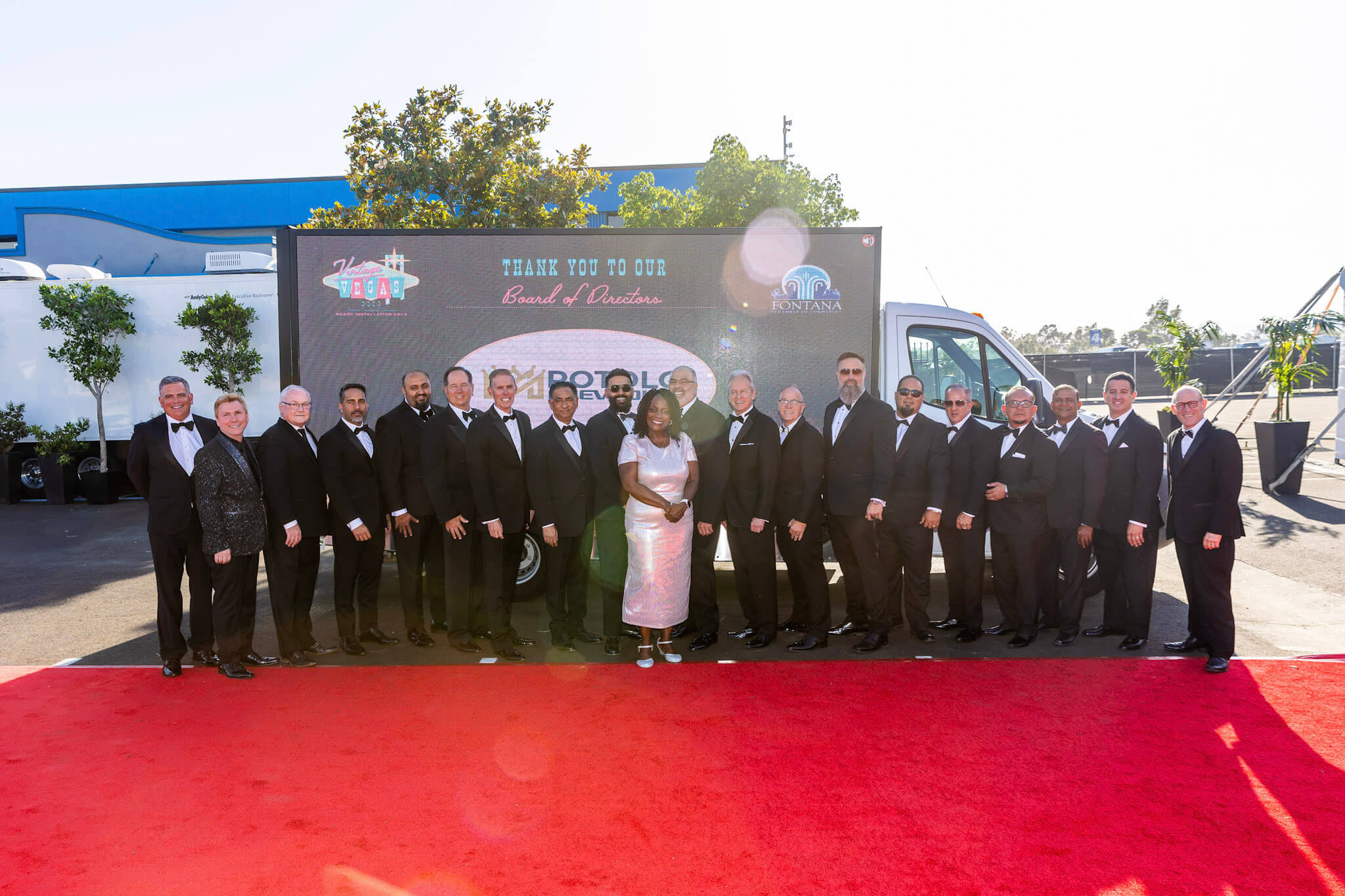 November Monthly Luncheon
THANK YOU!
to everyone who attended and R.S.V.P early!
Thank you to our guest speakers,
Mike Welsh
Working Dogs for Warriors 
December Membership Luncheon
Thursday, December 14, 2023
Check-In begins at 11:15 AM
The Program starts promptly at 11:30 AM
Jessie Turner Community Center
15556 Summit Ave, Fontana, CA 92336
With Guest Speaker:
Mayor Acquanetta Warren 
Toy Drive
Supervisor Jesse Armendarez is collecting donations for new (unwrapped) Toys for the children in our community.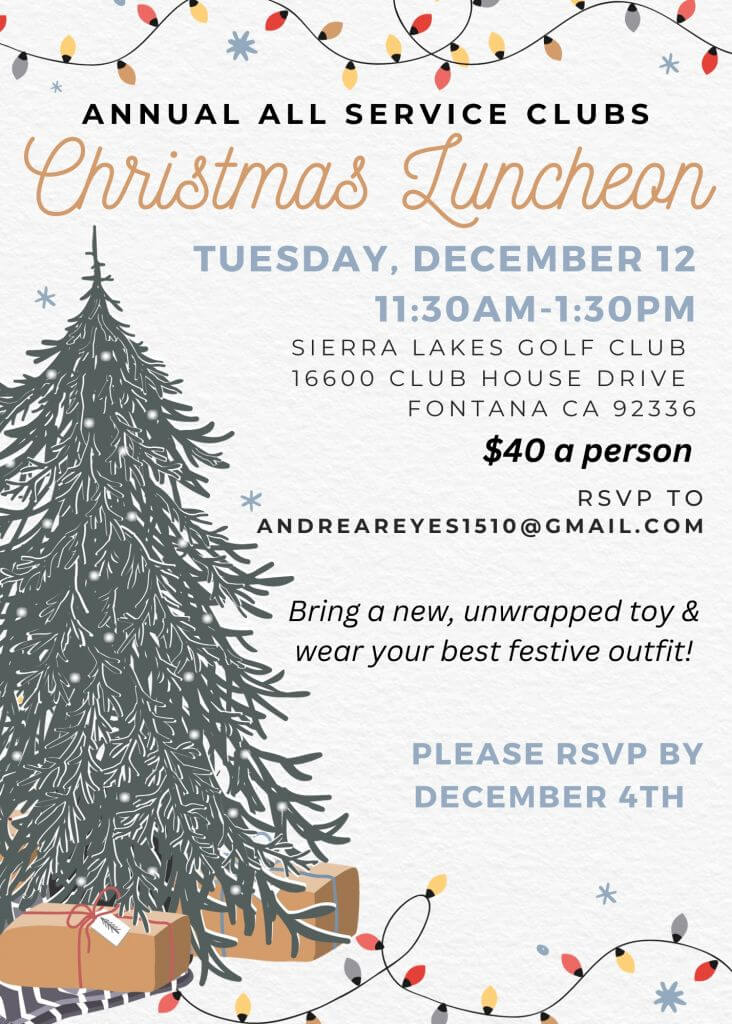 ANNUAL ALL SERVICE CLUBS
Christmas Luncheon
Tuesday, December 12 
11:30 am to 1:30 pm
Sierra Lakes Golf Club 
16600 Club House Drive
Fontana, CA 92336
$40 a person
RSVP to AndreaReyes1510@gmail.com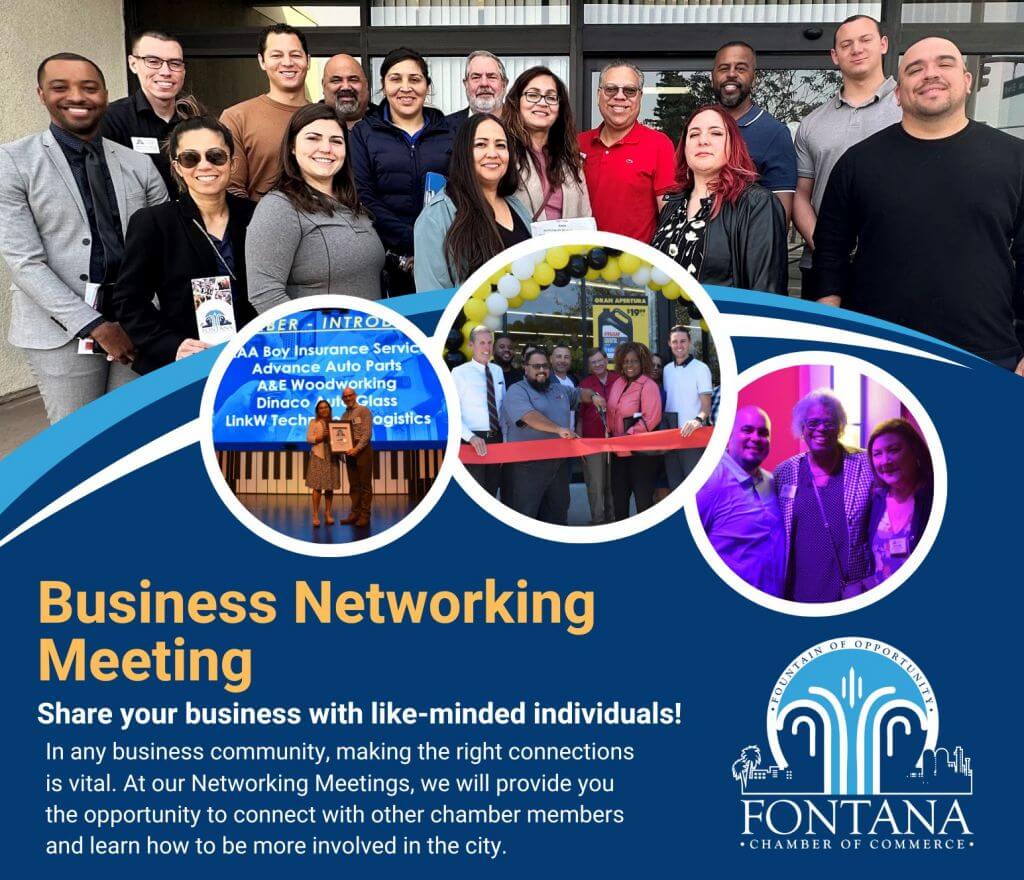 BUSINESS NETWORKING MEETING
Share your business with like-minded individuals!
Join us Friday, December 17th, 2023 at 9:00 am
Location: 
Empowering Success Now 
7940 Cherry Ave
STE 201,
Fontana, CA 92336
See links here to help you plan the perfect itinerary for your stay in Fontana, California.
Fontana is 5 miles east of Ontario International Airport and is the gateway to the High Desert, Death Valley, Palm Springs, Lake Arrowhead, and Big Bear.
Fontana is home to the Auto Club Speedway where we always look forward to seeing our Nascar fans!
Visit our restaurants, entertainment venues, and hotels.
Welcome!
The rise of social media is made much easier as it provides businesses the opportunity to share information about the products they produce, services they provide, and inform the community about a special they are currently having.
The government is using social media to let the citizens know what is going on in the city, what services are available, and to inform them of future events.
The Fontana Chamber uses Social Media to not only promote Chamber Events but to help promote local business, groundbreaking events, and to celebrate when a new business opens up in Fontana.
You can follow us on Facebook, Instagram, Twitter, and Youtube.